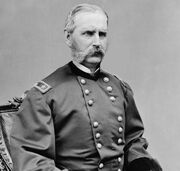 James Heinz Lewis (February 6, 1797 - August 16, 1889) was a United States Army General and a veteran of many major wars in the 19th century, including the American Civil War. He served for over 55 years in the US Army.
Early Life
Edit
James Heinz Lewis was born James Heinz Leischmeir in Northeastern Georgia on Februrary 6, 1797. He was born to Heinrich and Anna Leischmeir, immigrants from Köslin, Prussia. They came to America in 1785, following the Revolutionary War. They arrived in New York, and travelled south to Georgia. There, they started farming corn. In 1797, James was born, and the family decided to move north.
The Leischmeir family moved north to Kentucky in 1798, and settled near the Tennessee border. Young James learned hunting skills and learned the ways of the outdoors. He could speak fluent German along with English. At age 15, in 1812, when the War of 1812 broke out, James decided to enlist in a Kentucky Volunteer Regiment, and joined Colonel Andrew Jackson's Army. James fought battles against the British on the frontier, and later fought at the Battle of New Orleans, having become a Sergeant in the Volunteer Regiment. Also in 1815, he enrolled at West Point Military Academy, and having fought in combat before, was able to graduate in the year 1816, second in his class. It was at West Point, when he changed his name from Leischmeir to "Lewis."
Mid Career
Edit
Newly commissioned Second Lieutanant James Lewis was assigned to the Corps of Engineers, as were most top graduates of the Academy. He helped to design and build forts along the Coasts of Georgia and Alabama. In 1826, Captain James Lewis transferred over to the Cavalry, and was assigned to the 2nd US Cavalry Regiment. He stayed in that regiment for about twenty years, though he was attached to Infantry Regiments during the Blackhawk War(1832) and the Second Seminole War(1835-1842).
After returning from the Seminole Wars in 1842, Brevet Colonel Lewis served as a Cavalry Instructor at West Point until 1845. In 1846, Lewis was promoted to full Colonel, and led the 2nd Cavalry in the first year of the Mexican War. Lewis served under the Army of Winfield Scott, and was Brevetted a Brigadier General in 1847. Brigadier General Lewis helped Scott capture Mexico City in 1848.
After the War, Lewis served again as instructor of Cavalry at West Point. In 1850, he was promoted to full Brigadier General and became the Superintendant at the Academy for two years. In 1852, Lewis continued at West Point as an instructor of Cavalry until 1857, when he took up a command in Kentucky, and later in Washington.
Civil War
Edit
(To be continued)